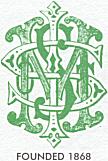 ---
Home
---
Future Meetings
---
How to Join
---
Past Meetings
---
SMSI Awards
---
Publications
---
History
---
Contacts
---

Targeting the Tumor Microenvironment in Cancer
by Professor Sherine Elsawa - Northern Illinois University

FRIDAY, October 30, 2015
To be held at
McCrone Research Institute
2820 South Michigan Avenue
Chicago, IL 60616
6:00 PM: Thai food ~ Tariff ~ $15.00

Contact Freddie Smith for Reservations / Cancellations at 312-842-7100 or Freddie@mcri.org by Noon Thursday, October 29, 2015
7:00 PM: Presentation
Despite major advances in the treatment of cancer, most remain incurable. The tumor microenvironment (TME) plays a critical role in the development, persistence and drug-resistance in cancer. The crosstalk between malignant cells and cells in the TME favors disease progression and promotes resistance to therapy. As the paradigm in the treatment of cancer shifts toward combining therapies targeting both malignant cells and the TME, a better understanding of the mechanisms that regulate the crosstalk between cancer cells and cells in the TME is needed.
Bio Sketch:
Sherine Elsawa received her doctoral degree from the University of North Carolina at Charlotte and went on to complete a postdoctoral position in Immunology/Hematology-Oncology at the Mayo Clinic in Rochester, MN. She has published in the fields of Immunology and Hematology. Currently she is an assistant professor at Northern Illinois University in the Department of Biological Sciences where her lab investigates the interaction between bone marrow stromal cells and malignant B cells.
---
©2011-2018 by State Microscopical Society of Illinois | Webmaster |