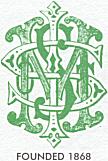 ---
Home
---
Future Meetings
---
How to Join
---
Past Meetings
---
SMSI Awards
---
Publications
---
History
---
Contacts
---

Peering into the Lives of Giants: Using Microscopy to Study Dinosaur Biology
by Peter J. Makovicky - Associate Curator, Dinosaurs, Field Museum of Natural History

Friday, April 17, 2015
To be held at
McCrone Research Institute
2820 South Michigan Avenue
Chicago, IL 60616
6:00 PM: Pizza & Salad ~ Tariff ~ $15

Contact Freddie Smith for Reservations / Cancellations at 312-842-7100 or Freddie@mcri.org by Noon Thursday, April 16, 2015
7:00 PM: Presentation
Dinosaurs reached the largest sizes of any terrestrial animal to have ever lived, but understanding how they did so requires studying the smallest details of their fossils. Microscopical studies of dinosaur bone inform about their longevity and growth rates, which in turn provide other insights into their biology. Dinosaurs had growth rates more rapid than those of living reptiles, though not as high as those of birds, and had life spans that compare to mammals of comparable size. Microscopical studies also allow us to determine how long their eggs took to hatch, how quickly they replaced their teeth, and even what color they may have been. Learn about how microscopical techniques are rapidly expanding our knowledge about the lives of dinosaurs.
Bio Sketch:
Peter Makovicky grew up in Copenhagen, Denmark, where he studied biology. After earning his PhD from Columbia University in 2001, he joined the Field Museum where he serves as Curator of Dinosaurs. He has described a dozen new dinosaurs, and conducted fieldwork in seven countries across four continents. He relies on a broad array of imaging technologies in his research on dinosaur evolution and paleobiology.
---
©2011-2018 by State Microscopical Society of Illinois | Webmaster |