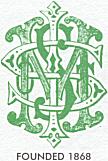 ---
Home
---
Future Meetings
---
How to Join
---
Past Meetings
---
SMSI Awards
---
Publications
---
History
---
Contacts
---

The History and Archaeology of Chicago's Civil War Camp Douglas
by Michael M. Gregory, Visiting Professor of Anthropology, DePaul University and
David L. Keller, Managing Director, Camp Douglas Restoration Foundation, Inc.
Friday, March 13, 2015
To be held at
McCrone Research Institute
2820 South Michigan Avenue
Chicago, IL 60616
6:00 PM: Italian Beef ~ Tariff ~ $15

Contact Freddie Smith for Reservations / Cancellations at 312-842-7100 or Freddie@mcri.org by Noon Thursday, March 12, 2015
7:00 PM: Presentation
Camp Douglas is one of Chicago's strongest links to the American Civil War, yet few people know of it or its story. In order to correct this oversight, the Camp Douglas Restoration Foundation, Inc. has undertaken an intensive research program with the assistance of Chicago area universities to bring Camp Douglas' story to the public through historical and archaeological investigations. The 60 acre camp originally operated as a Union recruitment and training center; however, after December 1862, the camp in large part served as a major prisoner-of-war facility for Confederate soldiers. While intended to house a maximum of 6,000 prisoners, the camp at times "accommodated" as many as 12,000 POWs, with a total count of approximately 30,000 Rebels passing through its gates. By late 1865 with the war ended, the presence of the camp all but disappeared as the government dismantled the facility and sold off the property. Thereafter, the camp's location and story largely faded from regional memory until the Foundation began a new round of research. To date, new documentary sources have been reviewed, known records have been reanalyzed, and archaeology has been employed to recovery physical evidence of the camp's administrative and POW compound areas. The results of this interdisciplinary research are discussed in terms of new findings about the camp, its occupants, and its road to obscurity as well as future research that is being planned.
Bio Sketch:
Michael M. Gregory, PhD is an archaeologist who has worked in a variety of academic, research, and cultural resources management settings during the past 30 years. As a field archaeologist, he has investigated prehistoric and historical sites in the American Southwest, Upper Midwest, and Mid-Atlantic regions as well as worked in France and Jordan. His primary research interests are the late, Late Prehistoric and Contact periods of the Upper Midwest; 19th- and early 20th-century suburbanization of Chicago; late 18th- through early 20th- century farmsteads and rural economic behavior; archaeological palynology; and Civil War prisoner-of-war camps. At DePaul, Dr. Gregory directs the Anthropology Department's Urban Historical Archaeology Field School.
David Keller, is a long time resident of Chicago and an amateur historian. Mr. Keller's professional life included various executive positions at Chicago area commercial banks. Currently he is a respected expert witness in banking matters throughout the country. Retired since 2002, he devotes much of his time to volunteer activities. David's interest in Camp Douglas comes from his interest in the Civil War, Civil War Prison Camps and 19th century Chicago history. The founder of the Foundation, Mr. Keller regularly speaks on the Civil War and Camp Douglas and has written a new book, The Story of Camp Douglas, Chicago's Forgotten Civil War Prison published by History Press
---
©2011-2018 by State Microscopical Society of Illinois | Webmaster |