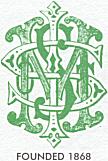 ---
Home
---
Future Meetings
---
How to Join
---
Past Meetings
---
SMSI Awards
---
Publications
---
History
---
Contacts
---

Analysis of Haze in Display Cases at the Field Museum of Natural History
Jeff Jankowski of North Central College

FRIDAY, October 17, 2014
To be held at
McCrone Research Institute
2820 South Michigan Avenue
Chicago, IL 60616
6:30 PM: Thai food: Tariff ~ $15.00

Contact Freddie Smith for Reservations / Cancellations at 312-842-7100 or Freddie@mcri.org by Noon THURSDAY, October 16, 2014
7:30 PM: Presentation
The Field Museum of Natural History in Chicago has thousands of artifacts on exhibit, most of which are contained in glass display cases. The cases themselves date as far back as the time of the World*s Columbian Exposition in 1893, with varying artifacts displayed inside. Over the years, the Conservationists and Exhibitors at the Field Museum have witnessed an unusual phenomenon with the glass of the display cases throughout the Museum. Over time an opaque film, or "haze", invariably deposits on the inside surface of the exhibit glass. The rate of development of the haze is as varied as the locations and content of the cases themselves. The goal of this project was to identify the haze and its origin in order to assist in maintaining the integrity of the artifacts present and to facilitate the cleaning and maintenance of the cases. FT-IR spectroscopy was used in an attempt to determine the composition of the translucent haze that is building up on the museum display case glass. This talk will present the methods employed in sampling and analyzing the haze, as well as the results that were found regarding the nature of the haze.
Bio Sketch: Jeff Jankowski is an Associate Professor of Chemistry at North Central College in Naperville, IL. He received his Bachelor of Science degree in Biochemistry from Benedictine University in 1988, and subsequently earned his PhD in Analytical Chemistry from the University of North Carolina at Chapel Hill in 1993, under the direction of Dr. Mark Wightman. He was an NSF Postdoctoral Fellow at the University of Illinois until 1995 when he began working at Nalco Chemical Company in their Mining and Mineral Processing Division. In 2001, he left industry for academia, teaching for two years at his alma mater, Benedictine University, prior to arriving at North Central College in 2003 where he teaches General Chemistry, Chemical Analysis, Instrumental Analysis and a variety of Science General Education courses.
---
©2011-2018 by State Microscopical Society of Illinois | Webmaster |