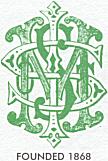 ---
Home
---
Future Meetings
---
How to Join
---
Past Meetings
---
SMSI Awards
---
Publications
---
History
---
Contacts
---

A Day in the Life of a Chemical Microscopist in the Conservation Laboratory
by Richard Bisbing

Friday, August 16th, 2013
To be held at
McCrone Research Institute
2820 South Michigan Avenue
Chicago, IL 60616
6:30 PM: Food & Beverages ~ Lou Malnati's Pizza and Salad ~ Tariff ~ $15.00
Contact Freddie Smith for Reservations / Cancellations at 312-842-7100 or Freddie@mcri.org by Noon Thursday, August 15, 2013
7:30 PM: Presentation
After retirement from McCrone Associates, I needed to replace a couple of cultures that I had been a part of for 45 years. Fortunately, I was given the opportunity to volunteer a few days a week in the Anthropology Department Conservation Laboratory at the Field Museum of Natural History. The Field Museum's mission of safeguarding objects for future generations and at the same time making objects available for study and public exhibitions requires careful conservation of the collections. The objects are evaluated to determine their true nature, to choose proper treatment and to allow sharing of the objects safely. There are many illustrations of how materials analysis using microscopy and microanalysis are helpful for solving problems and for meeting the conservation needs of the museum.
Bio Sketch:
Dick Bisbing retired as Executive Vice President at McCrone Associates, Inc., Westmont, Illinois. Nevertheless, he continues to utilize his leadership, investigative, educational and professional experiences by sharing his knowledge and skills in materials analysis and trace evidence through volunteering, lecturing and consulting. He currently volunteers in the conservation laboratory at The Field Museum of Natural History in Chicago where he is assisting others in natural history problem solving. He is a 2013 Microanalysis Society Tour Speaker. Initially trained by Dr. Walter C. McCrone, for 40 years he solved problems using analytical light microscopy and microanalysis. He believes materials analysis often requires the particle approach: microscopical observation of the problem, morphological analysis, isolation of homogeneous samples, and ultra-microanalysis of the samples. He is a member of the State Microscopical Society of Illinois and Midwest Microscopy and Microanalysis Society.
---
©2011-2018 by State Microscopical Society of Illinois | Webmaster |