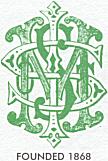 ---
Home
---
Future Meetings
---
How to Join
---
Past Meetings
---
SMSI Awards
---
Publications
---
History
---
Contacts
---

Surface-Enhanced Raman Spectroscopy for Pigment Identification
by Nilam C. Shah

Friday, April 20, 2012
To be held at
McCrone Research Institute
2820 S. Michigan Avenue
Chicago, IL 60616
6:30 PM: Food & Beverages ~ Mexican ~ Tariff ~ $12.00
Contact Freddie Smith for Reservations / Cancellations at 312-842-7100 or Freddie@mcri.org by Noon Thursday, April 19, 2012
7:30 PM: Presentation
Dyes, colorants and other organic materials used by ancient cultures up to the present day enhance the aesthetic qualities of many of the artworks that we admire in Museums and collections: from ancient Egyptian mummy covers to modern day digital photographic prints. These colorful works of art - important testimonies of our cultural identity - are in fragile equilibrium as they can be severely damaged and faded by prolonged and un-controlled exposure to light or inadvertently removed by uninformed conservation treatments (a phenomenon called "bleeding" of the dye). Both of these problems are vexing to the conservator and collector during treatment and exhibition. Achieving ultrasensitive, highly specific colorant identification is the first step in formulating treatment techniques and exhibition guidelines that rely on solid scientific ground, rather than empirical knowledge.
Surface-enhanced Raman spectroscopy (SERS) is an ideal tool for analyzing pigments in artwork because it has ultrahigh sensitivity, high spatial resolution, minimum sample damage, and generality. This talk will focus on recent progress on the fundamental understanding of SERS and the application of SERS to art conservation. This research will eventually result in new and improved sensors that can accurately identify pigments and degradation products in precious works of art.
Bio Sketch
Dr. Nilam C. Shah is a Research Assistant Professor of Chemistry in the Van Duyne group at Northwestern University. She received her PhD in Chemistry in 2009 from Northwestern University in Professor Richard Van Duyne's group. Her thesis focused on developing ultrasensitive sensors for glucose and lactate using nanostructured surfaces, functionalization chemistry, surface-enhanced Raman spectroscopy (SERS). Currently, her research focuses on developing ultrasensitive SERS sensors for identification of art pigments and degradation products in collaboration with the Art Institute of Chicago.
---
©2011-2018 by State Microscopical Society of Illinois | Webmaster |